You can get the problem of white hair becoming thin or deteriorating in every home and see. There are many reasons for this. Due to the lack of proper care of the hair, imbalance of hormones and deficiency of nutrients in the body, this kind of problem is seen in the hair. In today's time, this hair problem is becoming inaccessible.In today's modern times, we do not know how many types of advertisements, we use pharmaceuticals, and shampoo. But its benefits only take effect for a few days. Or they have the same effect as they do. If you want to keep your hair safe and beautiful So, pay attention to the home remedies except today's modern materials. The benefits of which you can get to see forever.
Hibiscus Leaves has been used to increase the beauty of hair from a very old time. But in the gloom of today's modern times, people have forgotten to use them away from home remedies and use them. But even today, home remedies have proved to be a blessing for all types of problems, along with hair. Nobody can deny it by looking at its usefulness.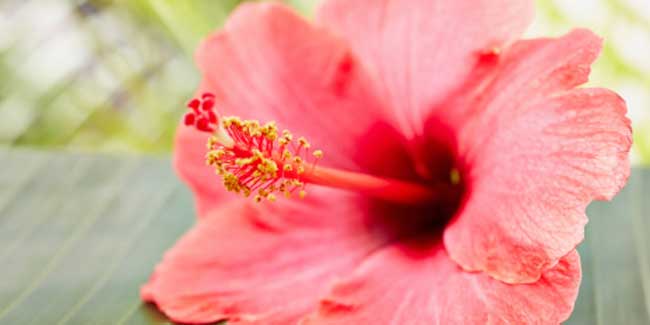 The flower of Hibiscus is quite beneficial and nutritious because it contains the properties of many nutrients like Vitamin C, Mineral and Antioxidant. Along with this, there is plenty of calcium and fat-fired iron. Which are very useful for your health. Also, with the help of hair problems, you can get rid of it.
Let's go about the medicinal properties of Hibiscus on hair:
1. To apply in the Hair, boil the flowers of Hibiscus leaves in mustard and coconut oil. After cooling, massage this oil on the head. In this way you do for one month continuously, by doing this, your hair will become very dense, along with hair growth and your hair will grow rapidly.
2. You can even apply Hibiscus leaves along with juice of lemon or juice. This will work as a natural conditioner for your hair when used in this way. By continuously using it, the problem of the hair will end, and it will be very beneficial to remove the whiteness of the hair.
3. To make the hair beautiful and dark you can also use the egg with Hibiscus flowers. For this, first grind the Hibiscus leaves, then add one egg in it. Apply this mixture to the hair roots. Use fingers to apply in hair. Regular use of this mixture will return the lost glow of your hair.
4. To make the hair dark and thick, grind the Hibiscus flowers or leaves with the gooseberry and make the coating on the roots of your hair. This will stop your hair from falling and your hair will look dense and shiny.
5. Oil is the most important factor for keeping hair healthy. Because oil can only keep the hair strong. For this, Take olive oil or Hibiscus. In Olive oil, if you mix the juice of fresh coconut or the juice of the leaves with oil, it will work like gold in the gold for the hair. After cooking this oil, keep it cool in a bottle or vessel. And keep massage from this oil on your hair roots and you will be able to see the results in a short time.