For those of us blessed with curly or wavy hair, we constantly wonder how to get silky straight hair. It's adaptable, it's manageable and lends itself to various different hairstyles. Why wouldn't we want it? The problem is, without subjecting our hair to heavy chemical treatments, running to the salon for a blow-dry or straightening it with an iron every day, we can't achieve this. Even worse, most of these remedies are temporary and can cause long term damage to your hair.
There is hope though. Natural hair straightening does exist. These home remedies for straight hair show you how to get straight hair naturally, and avoid damaging it in the process.
1. Use a Straightening Iron
If you use a good quality straightening iron and take proper care, you will be able to straighten hair without much damage. The most important point to remember while using a straightening iron is the temperature. If you have a good quality hair straightener, you will have an option to adjust the temperature.
Adjust the temperature according to your hair type. For fine or slightly damaged hair, use 250 to 300 degree F temperature. For hair of average thickness use 300 to 350 degree F and for hair which is thick, coarse or frizzy use 350 to 400 degree F. Follow these simple steps to straighten your hair using a straightening iron.
2. Olive Oil to Straighten Curly Hair
This is yet another effective and natural method for hair straightening. Olive oil helps a lot in the process of straightening your hair naturally.
Take two eggs.
Beat them.
Add suitable amount of olive oil.
Mix it well.
Apply it covering your hair properly.
Let it work for 45 minutes.
Now wash it off with shampoo.
3.Coconut Milk for Hair Straightening
The best thing to straighten your hair naturally is coconut milk.
Pour 1 cup of coconut milk in a bowl.
Squeeze half a lemon into it.
Mix well.
Put this mixture in the fridge for an hour.
Now apply it, covering your hair.
Take a towel and heat it up using a dryer for a few minutes.
Wrap this warm towel around your head. This will help to soak in the nutrients.
Now simply wash your hair after 35-50 minutes.
4.Use Milk & Honey
Take 1 cup milk and add honey to it.
Mix it well to create a good paste.
Add banana to make it more thick and effective.
Bananas are good moisturizers for hair.
Apply this paste on your hair and let it work for 1 hour or more.
Wait till it completely dries out.
Now wash it off with shampoo.
5. Twist hair into a bun
If you have fairly obedient, straightish hair to begin with, then this method will likely work for you, though it's not effective on my stubbornly wavy hair. Make a ponytail of damp hair and twist like a rope. Wrap around itself to make a bun and secure with an elastic. Let air dry, then brush out.
6. Make a natural straightening mask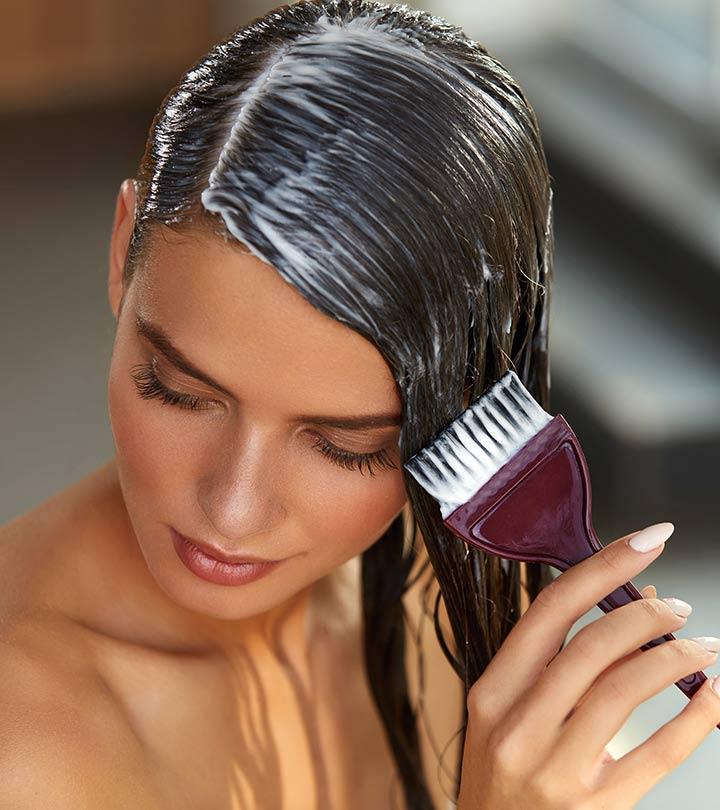 Mix 1 cup of whole milk or coconut milk with 1 tbsp of honey and let it soak into your hair and scalp for one hour before washing out.
You can also mix 2 cups milk with 1 egg. Soak your hair in it for 10 minutes, then squeeze out, don't rinse, and wrap with a plastic cover for another 30 minutes. Wash out and brush dry.
A recipe from Glamrs recommends applying the following DIY straightening mask twice a week for 2 months in order to relax and straighten your hair: 1 cup coconut milk, 5-6 tbsp lemon juice, 2 tbsp olive oil, 3 tbsp cornstarch. Heat at low temperature and stir until smooth. Cool, then apply to hair.
To all of these methods, add a few drops of sweet almond or coconut oil to tame frizz and smooth out the look.